a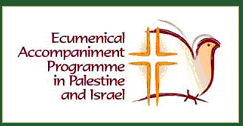 What is EAPPI?
EAPPI accompanies Palestinians and Israelis in nonviolent actions and carries out advocacy efforts to end the occupation. Participants monitor and report violations of human rights and international humanitarian law. They offer protection through a nonviolent presence and stand in solidarity with the churches and all those struggling against the occupation.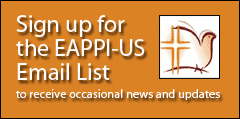 How to apply to be an accompanier
Accompaniers (knowns as "EAs") serve for three months in international teams. They live and work mostly in West Bank cities and villages. The program welcomes inquiries from the United States at [email protected]
An application form and references are available here (see below) and can be submitted by email or postal mail.
Applications are reviewed on an ongoing basis. Candidates are interviewed by members of the EAPPI-US Coordinating Committee and recommended to the World Council of Churches' EAPPI staff in Jerusalem. Those who are interested in volunteering should allow at least two months for application processing and up to six months for fundraising.
EAs from the United States are responsible for raising the funds needed to cover the cost of their participation for one three-month term. This amount averages $7,000 – including roundtrip travel to Jerusalem via Washington, DC. Partial scholarships are often available.
Applicants should be at least 25 years of age and in good health. They are encouraged to discuss with family, friends and church community their interest in volunteering through EAPPI with their family, friends and church community. Please send application forms to: EAPPI US Coordinator – 204 S Lamar St – Weatherford, TX – 76086
Application Form (Links to Microsoft Word file, which you may fill out and return by postal mail. Applications are reviewed when they are complete with three references)
Reference Form (Applications should include three references, not including family members)
Fundraising Ideas (US EAs have can find support from family, friends, churches and institutions)